Keep Your Employees Healthy and Productive With Ergonomic Office Furniture from Panel Systems Unlimited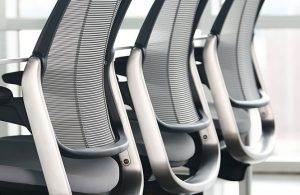 If you're looking for ways to incorporate ergonomic office furniture into your business in Knoxville, Tennessee, or a surrounding area, look no further than the professionals at Panel Systems Unlimited. We have proudly served the area since 1996 by offering quality and stylish furnishings that are designed with ergonomics in mind. All of our ergonomic solutions are made to provide your employees with the support and functionality needed to keep them healthy, safe, and on track throughout the workout day.
One of the easiest areas to reduce the risk of neck, back or hip pain is to replace furnishings that place a strain on your employees while they are seated at their desks. This begins by making sure you select the perfect ergonomic office chairs for your Knoxville business. Some features to look for include:
Armrest height
Intuitive adjustments
Recline mechanism
Lumbar support
And more
Certified Design Team
One of the primary benefits of working with Panel Systems Unlimited for the installation of ergonomic office furniture is that you'll be able to take advantage of our certified design team. Our design experts will happily create a CAD rendering of your office so you can visualize what your space will look like once your new furnishings are installed. This will allow you to easily make any changes you require before any furniture is moved.
To learn more about the impressive ergonomic office furniture we offer to residents of Knoxville, TN, and the surrounding areas, contact the professionals at Panel Systems Unlimited today. One of our highly knowledgeable team members will happily answer any questions you may have about our office furniture.