Save Space at Your Office with Modern Desking Systems from the Experts at Panel Systems Unlimited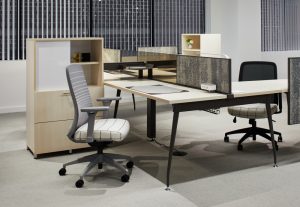 If you're looking for the perfect desking systems at your office, turn to the experts at Panel Systems Unlimited. Desking systems are the perfect solution for businesses that want a more open and welcoming environment for their employees. By placing your employees in a desking system instead of a cubicle you'll even be able to utilize more natural lighting as it makes it easier for exterior light to illuminate your workspace.
What's more, at Panel Systems Unlimited our team of experts is able to provide a variety of options that will perfectly suit your business. Regardless of whether or not you only require desking systems, our products are made to enhance the aesthetic appeal and functionality of your business. This is done by providing additional new, preowned, and refurbished products from a variety of the industry's leading manufacturers.
Desking Systems can be Easily Integrated into Any Environment
One of the primary benefits of turning to Panel Systems Unlimited for desking systems instead of another provider is that we are able to ensure that your new products fit perfectly into your workplace. In order to achieve this, our certified design team will create a CAD rendered layout of your office so you can visualize how your office will look once the installation is complete. Once we have your approval on the design, we'll get started installing your new office products to your unique specifications.
To learn more about the desking systems we offer to business owners throughout the United States, contact Panel Systems Unlimited today. When you do, we will happily answer any questions you may have about our products and services.