Exceptional Desking Systems for Businesses in Jacksonville, FL & All Surrounding Communities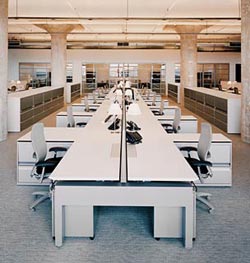 If you're thinking of adding desking systems to your office in Jacksonville or any other nearby community in Florida, turn to the experts at Panel Systems Unlimited. Since 1996, we have been helping businesses throughout the Southeast and across the nation furnish their workspaces with quality commercial furniture. We specialize in systems furniture, and the open plan desk systems we offer can provide you with an innovative way to organize your floor space, while also encouraging collaboration and productivity among your employees. With optional privacy panels, easy-access data and power ports, as well as ample storage and desktops with room for teamwork, these versatile modular pieces can serve many purposes.
The desking systems we offer at Panel Systems Unlimited are not only customizable to suit your particular work place needs, they are also designed for aesthetic appeal and long-lasting performance. Their streamlined style and clean lines make these desks perfect for today's modern office, while the quality craftsmanship found in our brand-name furniture means you can count on their durability as well.
You might select any of the following manufacturers when you choose desking systems from Panel Systems Unlimited for your office in Jacksonville, FL:
Kimball
Knoll
Teknion
Steelcase
Trendway
Haworth
Herman Miller
And more
If you'd like to learn more about the premium desking systems we have available, please contact Panel Systems Unlimited today. We are proud to serve businesses in and around Jacksonville, FL, and throughout the United States.