Impressive Used Cubicles for Your Growing Business in Raleigh, NC, or a Surrounding Area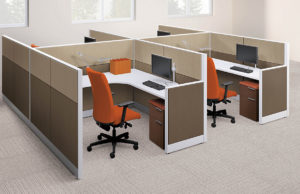 Searching for a company to provide cubicles for your growing business in Raleigh, North Carolina, or a surrounding area, may be a difficult choice to make. That is because there are so many companies that provide different services at varying price points and you want to make sure you are making the right choice. If you are ready to make this tough decision it is important to keep in mind the budget of your company. Are you looking for brand new cubicles or are you looking for a more cost-effective used option that will leave you with products that still look and feel brand new?
Making the choice to purchase used cubicles for your business in Raleigh, NC, or a surrounding area, may be the best decision you can make while shopping for office furniture. That is because, purchasing preowned cubes will still grant you the freedom to choose whatever style you desire, including:
U-shaped and L-shaped cubicles
Open plan office furniture
Collaborative workstations
And more
Thankfully, Panel Systems Unlimited is in the area and will be able to accommodate your growing business with whatever style of used cubicles or other office furnishings you desire. We have proudly served the area since our founding in 1996 with high quality products and top-tier customer service. The used products that we offer will feel like they have been used for no more than six months so you will feel like you made the right choice for your business.
For more information about the high-quality used cubicles that we offer to businesses in Raleigh, NC, and the surrounding areas, contact Panel Systems Unlimited today. We proudly offer a lifetime warranty on all of the products that we offer to ensure that your investment will remain protected.