Cubicle Parts for Companies in Clarksville, TN & All Neighboring Cities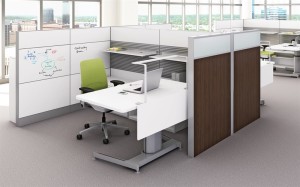 If you need cubicle parts to replace lost or damaged components of the systems furniture in your office in Clarksville or any other surrounding Tennessee community, then turn to the workstation experts at Panel Systems Unlimited. The workplace can be hard on cubicles – prolonged, sustained use can take its toll on workstations and leave them worn out or broken. However, returning functionality and appearance to your systems furniture is easy with cubicle parts from Panel Systems Unlimited.
We offer a comprehensive selection of new and used parts designed to fit nearly all cubicles, including some of the most trusted brands in the industry like Trendway, Teknion, Steelcase, Knoll, Kimball, Herman Miller, Haworth, and Allsteel. This variety, along with our wide range of color and size options, ensures that you can find the cubicle accessories you need to restore your systems to a gently used condition. Additionally, with lower prices than most manufacturers and same day or next day shipping in many cases, workstation components from Panel Systems Unlimited help you and your Clarksville, TN, business save money and time.
A few of the numerous cubicle parts and accessories from which you could choose include:
Panels and walls
Workstation surfaces
Panel fabrics
Trim
Brackets
And much more
To find out more about how cubicle parts from Panel Systems Unlimited can help you breathe new life into the systems furniture of your company in the Clarksville, TN, area, contact us today.