Cubicle Panel Sales for Atlanta, Charlotte, Nashville, Raleigh, and Cities Nationwide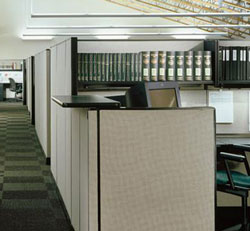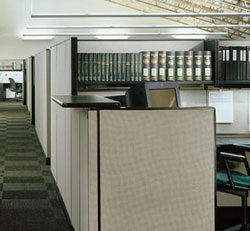 Whether your Atlanta office needs one used cubicle panel or several new panels to complete an entire workplace décor change, Panel Systems Unlimited has the wide selection of used and new panels to accommodate systems furniture needs of virtually any size and budget. We carry office cubicle panels from many of the industry's top manufactures, including Herman Miller, Haworth, Knoll and Steelcase, so we can provide panels that fit seamlessly with your existing workstations.
Our systems furniture professionals also provide cubicle panel cleaning services. All of our used systems furniture is thoroughly cleaned and retouched to give it a like-new appearance. When you choose panels and installation services from Panel Systems Unlimited, we can even clean your existing office cubicle panels to give your entire workplace a fresh feel.
Our cubicle panel selection features:
Monolithic or tile and frame models
Numerous panel fabric choices
Glass panel options
Laminate work surface configuration and color options
Various trim material and color options
No matter what kind of cubicle panel style you choose to have installed in your office, our systems furniture professionals also provide space planning services as an added value to our customers. Our experienced staff puts their extensive knowledge together with CAD technology to create a detailed floor plan of your workplace in order to better configure your workstations to contribute to increased productivity. Since our installation teams have in-depth knowledge of systems furniture assembly and electrical setup, we are the only company you need when shopping for office panels, connectors, brackets, and cubicle parts of any type.
Contact Panel Systems Unlimited today for more information on our cubicle panel selection for offices in Atlanta, Charleston, Birmingham, Orlando, and throughout the country.