Cubicle Accessories for Atlanta, GA Office Workstations and Parts for Systems Furniture in Charlotte, Raleigh, Miami, throughout the Southeast & Beyond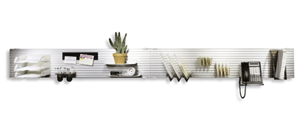 If you need cubicle accessories and parts to help you reconfigure your systems furniture or if you simply want to replace some lost or worn out components, Panel Systems Unlimited has an extensive selection with everything you need. While contacting the original manufacturer of your workstations may seem like a good idea, this avenue often takes more time and costs more money. Our wide ranging inventory of affordable cubicle accessories includes parts from top manufacturers, like Steelcase, Herman Miller, Haworth, Allsteel, Teknion, Kimball, Trendway, and  more, and are often available to ship the same day.
We carry high-quality, affordable office cubicle accessories and workstation parts, including:
Overhead bin boxes
Task lights
Locks
Trim
Cabinets
Electrical wiring
Connectors
Work surfaces
Brackets
And more
Whether you need new trim to fit a change in décor for office furniture workstations in your Atlanta brokerage firm or replacement cabinets for cubicles in your Columbia call center, we have the brand-name accessories and parts at affordable prices to suit your budget.
Call or email Panel Systems Unlimited today to find out about our selection of in-stock cubicle accessories and parts for your offices in Atlanta, Birmingham, Nashville, Orlando, and beyond.