Reliable Commercial Space Planning Services Available to Businesses in Atlanta, GA & Surrounding Areas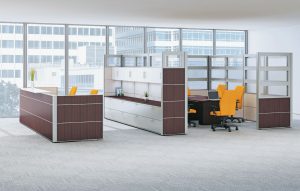 Businesses in need of reliable commercial space planning services for their office in Atlanta, Georgia, or a surrounding area, should look no further than the experts at Panel Systems Unlimited. We have served the local area since our founding in 1996 and have helped countless businesses achieve high-quality preowned, new, or refurbished furnishings since that time. Throughout the purchase and installation of your new furnishings, you'll also be able to take advantage of our impressive commercial space planning services to ensure that your new layout is the perfect fit for your employees and maximizes all available space.
Throughout this phase of your project, our certified design team will create a CAD rendering of your layout so you can easily view where your new furnishings will be installed. This design will take into consideration any Life Safety codes and ADA compliance that is necessary so you can ensure that your new workspace will meet the needs of your business and all of your employees.
Once your design is approved and in place, our installers will get to work ensuring that your installation is completed without any issues. We will take into account any necessary electrical work and ensure that your new furnishings are ready for use as soon as possible.
Contact us Today!
To learn more about the commercial space planning services we offer to businesses in Atlanta, GA, and the surrounding areas, contact Panel Systems Unlimited today. When you do, one of our knowledgeable team members will happily answer any questions you may have about our services.