Collaborative Office Furniture for Your Business in Raleigh, NC, or a Surrounding Area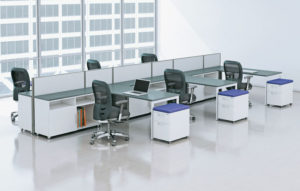 If you require collaborative office furniture for your business in Raleigh, North Carolina, or a surrounding area, turn to the experts at Panel Systems Unlimited. We have proudly served the area since 1996 and in that time we have begun to cater towards businesses looking for easily reconfigurable systems furniture. Not only that, but an open plan office furniture allows for comfortable seating while trying to promote teamwork and collaboration among your employees.
Furthermore, by turning to Panel Systems Unlimited for your collaborative office furniture at your office in Raleigh, NC, or a surrounding area, you will have a wide variety of premium furnishings available to choose from. We even carry office furniture from some of the leading manufacturers in the industry that are known for creating furnishing solutions that are durable and visually appealing. Some of these manufacturers include:
Teknion
Herman Miller
Steelcase
AIS
Knoll
And more
Additionally, the collaborative furnishings we offer are made with many additional accessories to make your life easier. Some of these features include privacy screens, mobile storage units, and easy-access power and data ports. And, if you would like to see what the finished layout of your office will be upon installation, we have a certified design team on staff that can provide you with a CAD rendering of the finished design to ensure it is up to your specifications.
For more information about the collaborative office furniture available to residents of Raleigh, NC, and the surrounding areas, contact Panel Systems Unlimited today. When you do, one of our highly knowledgeable associates will happily answer any questions you may have about our products and installation services.