Collaborative Office Furniture for Businesses in Miami, FL & All Surrounding Communities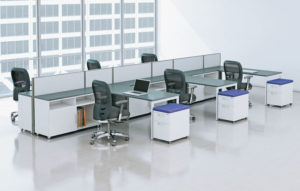 The collaborative office furniture offered to businesses in Miami, Florida, and the surrounding areas by Panel Systems Unlimited is useful for a variety of different reasons. This innovative style of furnishings is designed to be highly versatile and attractive as well as easily relocated or adjusted, should the needs of your workplace ever change. Open-plan furnishings are a growing trend among businesses in the office industry, and their ability to provide a comfortable setting for teamwork and individual tasks ensures that this style is here to stay.
Panel Systems Unlimited specializes in acquiring premium preowned and new furnishings to offer to business owners in Miami, FL, and surrounding areas. Even though our selection of collaborative office furniture is always changing, at any given time you might able to select name-brand products from industry leading manufacturers, such as:
AIS
Herman Miller
Teknion
Knoll
Steelcase
And more
No matter what product you select, you will be able to take advantage of our highly impressive design team. Our certified designers will help you plan the best possible layout for your office to make the most of your floor space while also improving traffic flow.
For more information about the selection of collaborative office furniture that Panel Systems Unlimited can offer to business owners in the Miami, FL, area, contact us today. A knowledgeable member of our team will happily answer any questions you have about any of our furnishings.