Collaborative Benching Systems for Businesses in Columbus, GA & All Nearby Communities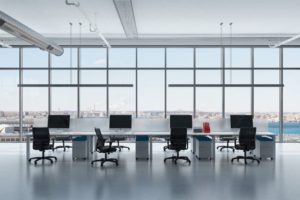 Panel Systems Unlimited offers collaborative benching systems to companies in Columbus, Georgia, that want to create a more open and productive work environment for their employees. The innovative designs of our furnishings can maximize your workspace while also providing opportunities for both individual work and group projects. We carry systems furniture from top manufacturers, including AIS, Steelcase, and Herman Miller, all known for their quality craftsmanship and creative furniture concepts. In fact, the AIS Oxygen benching systems we can install for you won the 2014 ADEX – Award for Design Excellence.
As a full-service office furniture company, Panel Systems Unlimited can help you get the most out of your new furnishings. We have certified designers on staff who can create a floor plan using CAD technology, showing you the layout of your furniture and allowing you to preview what your office will look like to make sure it meets your requirements. Then, our professional installation technicians can arrange and set everything up according to your specifications.
Our collaborative benching systems can transform your Columbus office and create:
Improved working relationships among your staff
Greater problem-solving capabilities with multiple skill sets working together
An atmosphere that encourages and inspires higher productivity
More human interaction, which leads to greater work satisfaction
And more
Plus, if your workspace requirements change, these versatile systems furnishings can easily be reconfigured to adjust to your evolving business.
If you'd like to learn more about the benefits of our collaborative benching systems, please contact Panel Systems Unlimited today. We are proud to serve businesses in Columbus, GA, and all surrounding areas.