Reliable Call Center Cubicles Available to Business Owners in Washington D.C. and the Surrounding Areas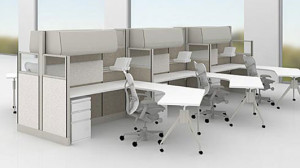 The cubicles at your call center are essential for providing the privacy that telemarketing professionals require to stay focused throughout the workday. Call centers are known for being bustling workplaces, and many business owners require affordable and durable products to accommodate many active employees. Panel Systems Unlimited has an extensive selection of new and used cubicles that you may need to meet the demands of nearly any office size and budget.
When you select Panel Systems Unlimited to furnish your call center with cubicles, you'll have the added support of space planning and installation professionals with more than 40 years of combined experience. Our systems furniture specialists will go the extra mile to ensure your call center furniture to maximize your office space and contribute to productivity.
Our selection of call center cubicles includes:
Numerous fabric patterns and colors
Monolithic or tile and frame options
Various height and width options
U-shapes, L-shapes, and other configurations
Upper and lower storage capabilities
High-Quality Used Cubicles
If you're looking for top-tier cubicles for your call center at an affordable price, our selection of preowned cubicles look and function like they're virtually new. In fact, our used cubicles are thoroughly inspected and retouched to remove any signs of use.
Let's Get Started!
To find out more about the impressive call center cubicles that we offer to businesses in Washington D.C. or any city nationwide, contact Panel Systems Unlimited today. When you do, we will happily answer any questions you may have about our impressive office furniture.