Impressive Call Center Cubicles Available to Business Owners in Huntsville, AL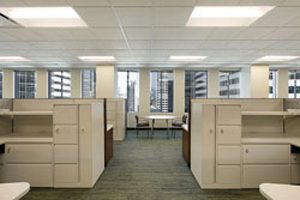 Is your call center beginning to expand due to new hires or increasing demands? If so, it is likely that you're ready for new cubicles to make room for the extra employees at your call center. Thankfully, business owners in Huntsville, Alabama, and the surrounding areas, can turn to the professionals at Panel Systems Unlimited for quality workstations that are built to last. We have proudly served the area for decades by offering new, preowned, and refurbished office furniture that will suit the needs of your local workplace.
In addition, when you decide that Panel Systems Unlimited is the right provider of call center cubicles at your office, you'll be able to select from a wide variety of affordable used cubicles that look and function as if they're brand new. All of these preowned cubicles have been carefully inspected and retouched so that they are highly visually appealing. Some of the many call center cubicle styles and custom options we offer include:
U-shapes, L-shapes, and more
Upper and lower storage capabilities
Monolithic or tile frames
Various heights and widths
A variety of fabric patterns and colors
And more
High-Quality Designs
At Panel Systems Unlimited, we take great pride in the work performed by our experienced design team. In fact, they'll work closely with you to help create the perfect layout for your call center that will maximize the space, functionality, and productivity of your workspace.
To learn more about the impressive call center cubicles we offer to business owners in Huntsville, AL, and the surrounding communities, contact Panel Systems Unlimited today. When you do, we will happily answer any questions you may have about our impressive office furniture products.