Privacy is Key with Call Center Cubicles for Your Business in Atlanta, GA & Surrounding Areas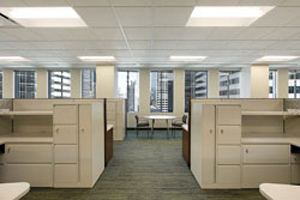 If you are in need of call center cubicles to furnish a new business or upgrade your existing office space in Atlanta, Georgia, or a surrounding area, there is a lot to keep in mind. Most importantly, to run an efficient call center, you need workstations that will allow your employees' conversations to be quiet. It can be a large distraction to overhear a coworker chatting with a client while you are trying to manage your own workload. This is why it is extremely important to purchase a cubicle system that will allow for your employees to be kept apart and diminish the amount of noise between desks.
Additionally, no matter where you purchase your cubicles from, you will be granted access to a large number of customization options, including:
U-shaped, L-shaped, or other configurations
Wide assortment of fabric colors and patterns
Monolithic, tile, or frame options
Various height and width options
Storage capabilities
And more
Panel Systems Unlimited offers the best call center cubicles for business owners in Atlanta, GA, and the surrounding areas. This is because we provide new, preowned, and remanufactured options as an effort to suit businesses of every budget. And, when purchasing our remanufactured cubicles, you can rest assured that your cubicle will have been thoroughly inspected to remove any sign of use. It will be as if you are purchasing a brand-new product at a significant price discount.
For more information about the call center cubicles available to business owners in Atlanta, GA, and all of the surrounding areas, contact Panel Systems Unlimited today. We offer a lifetime warranty on everything that we sell so that you can rest easy knowing that your investment is protected.