Benefits of Buying Used Cubicles at Your Knoxville Office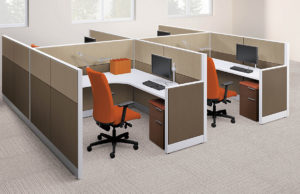 If you're ready to upgrade the office furniture at your business in Knoxville, Tennessee, or a surrounding area, look no further than the professionals at Panel Systems Unlimited. We have been a trusted source of quality office furniture for more than 15 years and have an extensive inventory of used and remanufactured cubicles. This is especially important for those businesses looking for a variety of options to perfectly suit the needs of their Knoxville office. Furthermore, with used cubicles, you'll be able to improve the aesthetic appeal and functionality of your office at a fraction of the cost of purchasing new products for your business.
Some of the many used cubicles that we offer to local businesses include:
L-shaped
U-shaped
Corner
Call center
And more
In addition, when you turn to the professionals at Panel Systems Unlimited, you'll be able to work closely with our design team to create the perfect layout for your business. Our team will even create a CAD rendered image of your new layout for your approval before any furniture is installed. We even cover most of our office furniture with a lifetime guarantee so you can rest assured your investment will remain protected.
For more information about the impressive used cubicles that we offer to businesses in Knoxville, TN, and all surrounding areas, contact Panel Systems Unlimited today. When you do, we will happily answer any questions you may have about our top-tier office furniture.