Outstanding AIS Office Furniture for Businesses in Savannah, GA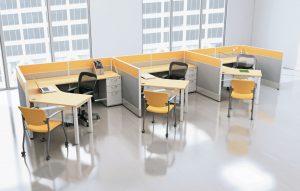 If you're looking for quality office furniture at your office in Savannah, Georgia, or a surrounding area, look no further than the professionals at Panel Systems Unlimited. We proudly offer systems furniture from the experts at AIS because they can provide you with premium cubicles or other furnishings including workstations, benching systems, and more. Our team has served the area since 1996 and offers a wide variety of products from all of the industry's leading manufacturers and AIS is no exception.
All of the systems products offered by AIS are designed to enhance the aesthetic appeal of your office and create a more functional workspace at the same time. This will allow you to instantly notice a positive change in your office and an increase in productivity from your workforce. Some of the many impressive features you'll notice from the AIS office furniture that we offer to businesses in Savannah, GA, and the surrounding areas, include:
Optional fabric or glass panels
A 6" panel raceway for data cables
Metal panel caps to withstand heavy wear and tear
And more
In addition, by turning to Panel Systems Unlimited for the installation of AIS office furniture, you'll be able to feel confident that you're receiving the most efficient layout for your workplace. This is because we have a design team that specializes in maximizing the space of your office while also increasing its functionality. Our designers will create a CAD rendering of your space for your approval prior to installation so you can see what your office will look like before any furnishings are moved in.
For more information about the reliable AIS office furniture that Panel Systems Unlimited can install for businesses in Savannah, GA, and the surrounding areas, contact us today. These outstanding furnishings are the perfect choice for a modern workplace that is always evolving and looking for more contemporary options.