Convenient AIS Office Furniture Solutions for Business Owners in Raleigh, NC & Surrounding Areas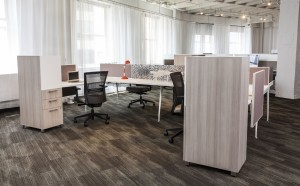 If you're looking for AIS office furniture for your business in Raleigh, North Carolina, or a surrounding community, turn to the professionals at Panel Systems Unlimited. We have proudly served the area since our founding in 1996 by offering high-quality new, used, and refurbished office furniture. The AIS line of products we offer are made to be aesthetically appealing and modern and will enhance your ability to rearrange your office at a moment's notice.
At Panel Systems Unlimited we are able to offer a wide variety of AIS office furniture to business owners throughout Raleigh, NC, and the surrounding areas. And, when you select cubicles that are manufactured by AIS you will be able to rest assured that you will be receiving a stylish product that is made to suit the aesthetic of your office. Some of the many panel materials and styles we offer include:
Modular
Stack
Glass
Segmented
Monolithic
And more
Additionally, when you select the AIS furnishings from Panel Systems Unlimited you will have access to a wide variety of additional features that can be customized and reconfigured to your unique needs. For example, you will be able to select from easy-access data and power functions, monitor arms, and dividing screens if your office requires them.
For more information about the AIS office furniture available to business owners in Raleigh, NC, and the surrounding areas, contact Panel Systems Unlimited today. A knowledgeable member of our team will happily answer any questions you may have about our products and installation services.