AIS Office Furniture is the Perfect Choice for Businesses in Huntsville, AL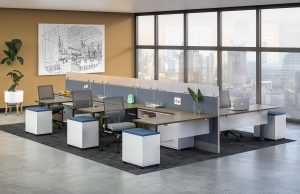 Don't settle for anything less than one of the industry's leading manufacturers for your office in Huntsville, Alabama, or a surrounding area, by turning to Panel Systems Unlimited for high-quality AIS office furniture. AIS is well-regarded as a top-tier manufacturer for its ability to create products that are customizable, functional, and reliable.
In fact, AIS stands out from other manufacturers of office furniture because they are able to offer a wide variety of office furniture including benching, seating, case goods, and more. This will allow you to create a coherent office that is complementary in design, aesthetics, and functionality. If it is AIS cubicles that you desire for your business in Huntsville, you will be able to choose from many customizable panels, including:
Stack configurations
Segmented
Monolithic
Glass
And more
Remodel Your Workplace with AIS Office Furniture
One of the primary benefits of selecting Panel Systems Unlimited for the AIS office furniture at your business in Huntsville, AL, or a surrounding area, is that you'll be able to take advantage of our certified design team. We will help you create the perfect new layout for your business that perfectly utilizes your new products in a way that maximizes space and places a priority on visual appeal. In order to achieve this, we use a CAD rendering of your office to show you exactly how your office will look once your new AIS furnishings are installed at your office.
For more information about the impressive AIS office furniture available to businesses in Huntsville, AL, and the surrounding areas, contact Panel Systems Unlimited today. When you do, make sure to ask about the convenient warranties we offer on all of the labor we perform.