Premium AIS Office Furniture Solutions for Business Owners in the Birmingham, AL, Area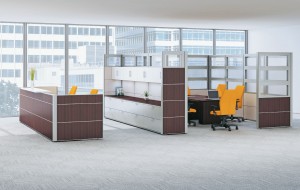 AIS office furniture systems offered by Panel Systems Unlimited can provide you with a premium cubicle option for your business in Birmingham, Alabama, or the surrounding area. We have served the area since 1996 and our large selection of furnishings from AIS, one of the most trusted manufacturers in the industry, can serve a number of purposes for your office space, including workstations, cubicles, benching systems, and more.
The AIS systems products we offer are designed for aesthetic appeal in mind so that, in addition to a more functional work space, you will also notice a positive change in the appearance of your office. Some of the many features of utilizing AIS office furniture systems from Panel Systems Unlimited for your business in Birmingham, AL, or a surrounding area include:
6" panel raceway for electrical or data cables
The option for fabric or glass panels
All-metal panel end caps to withstand heavy-duty wear and tear
And more
The helpful design team at Panel Systems Unlimited can assist you with creating the most efficient workplace layout that will maximize your space while simultaneously increasing functionality. The team will render up CAD drawings and send them to you prior to installation so that you can fully visualize exactly what your office space will look like before your project begins.
If you are ready to learn more about the functional AIS office furniture that Panel Systems Unlimited offers to business owners in the Birmingham, AL, area, contact us today. Our AIS furnishings are perfect for a modern workplace that is constantly evolving for a more contemporary aesthetic.