AIS Cubicles & Other Office Furnishings Available to Businesses in Washington D.C. & Surrounding Areas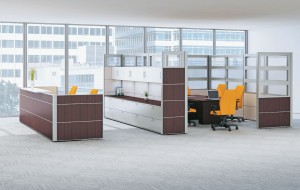 If you are looking for AIS cubicles for your business in Washington D.C. or a surrounding area, entrust the area's leading office furniture dealer, Panel Systems Unlimited. We have been in business since 1996 and proudly offer furniture from one of the industry's leading manufacturers – AIS. Their unique products are stylish, highly functional, and are made to fit the needs of the ever-changing workplace. We can offer you AIS furnishings that are new, preowned, or remanufactured to match the needs of your business.
In addition to AIS cubicles, Panel Systems Unlimited can provide business owners in Washington D.C. with the entire product line from AIS, including:
File and storage systems
Benching systems
Computer workstations
And more
Furthermore, when you purchase AIS cubicles or other office furniture products from Panel Systems Unlimited, you will be able to take advantage of our highly skilled design team. We will create a CAD rendering of your office space so that we can maximize the traffic flow of your office while creating a beautiful design for your new furnishings. This allows you to preview exactly what your office will look like before we move a single piece of furniture into your business.
For more information about the AIS cubicles and other furnishings that we offer to business owners in Washington D.C. and the surrounding areas, contact Panel Systems Unlimited today. A highly experienced member of our team will happily answer any questions you may have about our products or design services.